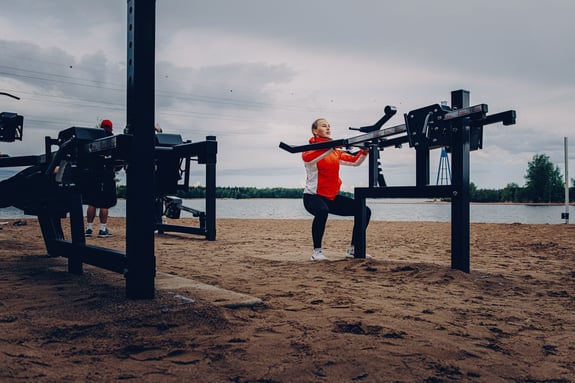 NO 1 Outdoor Gym provider
Omnigym outdoor fitness equipment features the same performance technology and workout experience as indoor gym equipment.
What makes Omnigym so unique?
It is scientifically proven that training with Omnigym equipment is equally efficient as training at an indoor gym.
Omnigym equipment has adjustable weight units ensuring maximal results. Thanks to the adjustable weight units, the equipment is suitable for progressive training.
Certified and standardized
Omnigym has ISO 9001 Quality Management System and ISO 14001 Environmental Management System standards and also the EN16630. The equipment is also TÜV certified.
Omnigym equipment is built to last. Made from steel, which is coated with a two-layer system combining cathodic protection and barrier effect.
Omnigym equipment has three years full warranty.
Equipment can be used regardless of a person's ages or sports background.
Omnigym has patented its unique products. We have the patent for the Arrangement and Method for adjusting load in Training Equipment FI: 127344, US: 15/756,325 , EP: 16766594.2
Omnigym equipment is biomechanically correct, which makes them safe to use for everyone.
Omnigym invests in long product development, to ensure the best possible equipment. The equipment is scientifically proven to be as efficient as indoor gym equipment by a University study.
The Omnigym User Experience
The user experience is one of the key values of our doing. We collect and analyze constantly our equipment and equipment usage. To ensure your investment's success, we provide you with the tools for our user survey.
99%
OF THE RESPONDENTS RATE THE OUTDOOR GYM AS "GOOD" OR "EXCELLENT"
83%
OF THE RESPONDENTS RATE THE OMNIGYM EQUIPMENT "AS GOOD AS" OR "BETTER THAN" INDOOR EQUIPMENT.
50%
OF THE RESPONDENTS PRACTICES IN THE OUTDOOR GYM SEVERAL TIMES A WEEK.
16%
OF THE RESPONDENTS ​WERE OVER ​55 YEARS OLD.
WHAT TO KNOW WHEN
BUILDING AN OUTDOOR GYM
Are you planning on building an outdoor exercise area? Would you like to have some insight before the purchase?
"The goal of Schiedam's municipality is that every citizen of Schiedam has/will have the possibility to move and play sports. On the one hand, this possibility lies with the many sports associations/sports providers in the city. On the other hand, Schiedam's municipality tries to organize the public space in such a way that the citizens of Schiedam are challenged to move (even) more."